Robyn Winz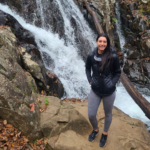 I am an EMAP student, graduating in December 2021, with an undergraduate background in International Relations and Environmental Studies. In addition to focusing on my graduate studies, I also work in environmental law, where I get to partner with community groups and national green groups alike in fighting for stronger and more protective environmental rules and regulations through administrative procedures and litigation. My docket is varied and includes issues related to better regulation of air toxics and criteria air pollutants, transparency within the 2016 Toxics Substances Control Act, preventing chemical disasters, energy-efficiency standards for appliances, and zero-emissions transportation.
My work with environmental justice groups, in particular, motivated me to go back to school. Environmental costs and benefits are not evenly distributed in this country, and science and policy are important tools to address that. I chose the EMAP program because I wanted to expand my understanding about the science that informs environmental advocacy, and I was looking for the hands-on lab experience that the EMAP program provides. Georgetown University's location within Washington, DC, and the scheduling of classes in the evening were added bonuses.
One of the program's strongest assets is its faculty. EMAP professors are extremely knowledgeable in their subject areas, well-connected, and interested in helping students develop academically and professionally. My advice to prospective students would be to take the time to get to know their professors, to ask questions in class, and to stay connected!