Admissions
Master in Environmental Metrology and Policy Program – for the Betterment of the World
Important Deadline Dates for Applications – Fall 2020
EMAP offers a free 10-week summer chemistry preparatory boot camp to newly enrolled students who do not have the prerequisite chemistry courses. The boot camp will prepare them adequately for the ensuing EMAP curriculum. As such, not having a college basic chemistry courses should not be an impediment for you to apply for EMAP admission. The schedule of the preparatory course the summer of 2019 is tentatively as follows: the 5-week General Chemistry session: from Monday, 6/1/2020 to Friday, 7/3/2020; the 5-week Organic and Biochemistry session: from Monday, 7/6/2019 to Friday, 8/7, 2020.
International: March 1, 2020
Deadline for submitting applications from international (non-US citizens or residents) for Fall 2020 is March 1, 2020, with a priority consideration date of January 15, 2020.
U.S. Residents: April 1, 2020
If you somehow missed the deadline but still want to apply for the Fall 2020 enrollment, you can send a formal petition to us to have a late application submitted. Your petition will be reviewed promptly.
Scholarships are available for qualified students whose qualification will be assessed upon their completion of the application and be informed of it thereafter. We will review completed applications and make admissions decisions on an ongoing basis.
Please be sure to review the Graduate School Admissions How to Apply page.
Planning to Apply?
---
Admission materials
Prospective students are required to submit the following items:
Non-refundable Application Fee, currently $90
Resume or CV
Three Official Recommendation Letters
Requirements
Statement of Purpose
All applicants must submit a less-than-two-page personal statement describing why the EMAP program would fit their career aspirations.
Unofficial Transcripts from all prior higher-education institutions (International applicants who attended institutions outside the United States must use a transcript evaluation service.)
Transcript
All unofficial transcripts should be uploaded by the applicant to the online application.
Applicants for admission to the Environmental Metrology and Policy Program must provide unofficial transcripts of ALL work beyond secondary school—undergraduate coursework, graduate coursework, study abroad courses, community college courses, and non-degree courses. This requirement also includes any transfer credits that may have been completed at another institution other than the degree awarding institution.
For additional details regarding transcript requirements, please review the Office of Graduate Admissions' page for the full policy and requirements. (new window)
GRE score (optional but recommended)
GRE Scores
Although applications without GRE scores will be considered, they are still recommended to take and submit their results of GRE as an additional evaluation data point for the admission decision. Test scores must be received by the application deadline date. Applicants should allow six to eight weeks from the test date for the reporting of scores to the institution. Information on registering to take the GRE can be found at: http://www.gre.org/ttindex.html
Georgetown University's institution code for reporting GRE scores is 5244.
TOEFL/IELTS score
English Proficiency:
All applicants are required to demonstrate a level of proficiency in the English language sufficient to meet the admission requirement of the Graduate School of Arts and Sciences. Proficiency can be demonstrated by the receipt of a bachelor's or advanced degree from an accredited institution of higher education in the United States or from a university where English is the primary language of instruction (please note that applicants receiving degrees at universities in U.S. territories, such as Puerto Rico, are required to submit the TOEFL or IELTS unless the primary language of instruction at the institution is English).
All other applicants must achieve at least a minimum score on either the TOEFL or IELTS test as noted below. Test scores must be received by the application deadline date. Applicants should allow six to eight weeks from the test date for the reporting of scores to the institution. Applications from students requiring the TOEFL/IELTS will not be considered without TOEFL/IELTS scores.
TOEFL: A minimum score of 600 (paper-based test) or 100 (iBT test) on the Test of English as a Foreign Language (TOEFL).
IELTS: A minimum score of 7.5 from the International English Language Testing System (IELTS).
Georgetown University's institution code for reporting TOEFL scores is 5244.
Other Information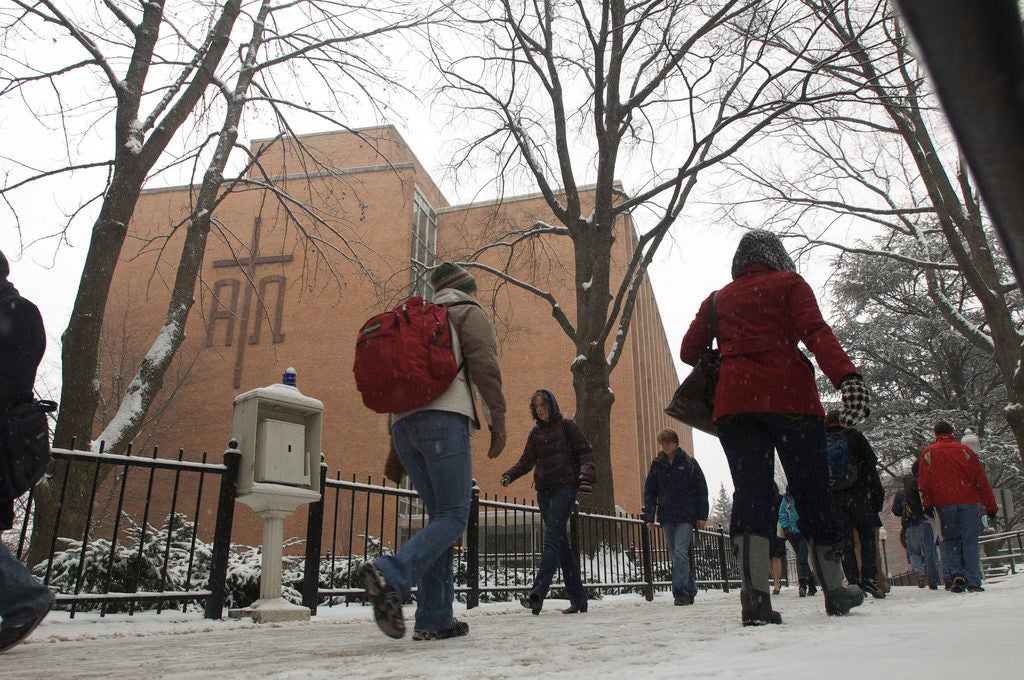 All EMAP lecture courses are schedule after 4 pm on weekdays and lab courses on Saturdays so students can have the option of pursuing the degree while still working full time (US students) or part time (international students) and there are many job opportunities in the Greater DC Area. Students will have plenty of opportunities to learn the crafts from world leading practitioners in EMAP from NIST, EPA or other government agencies as they progress along the curriculum.
With approval from the Program's Director, students may take up to six hours of course work in another department or at other institutions in the consortium of universities of the Greater Washington Area.
Overall, we strive to enroll a diverse student body and encourage applications from individuals with a wide variety of educational and professional backgrounds.
Please read our admissions policies, information on our science prerequisites, information for both domestic and international applicants and information on our costs and financial aid.
We encourage prospective students to attend an admissions event or schedule an onsite visit – faculty and staff are also available for visits via Skype or a simple phone call if that better fits your schedule. Click here for more information about contacting our office to schedule a visit or information session.
Download our Master in Environmental Metrology & Policy Program brochure (PDF).