Prospective Students
Master in Environmental Metrology and Policy Program – for the Betterment of the World
Environmental Metrology & Policy Program (EMAP) at Georgetown University offers rigorous experiential learning in environmental measurements science (metrology) & policy making. All lecture courses are scheduled after 4pm on weekdays and lab courses on Saturdays so students can have the option of pursuing the degree while still working full or part time.
With EMAP, students learn how to (1) reliably identify and quantify toxic chemical pollutants, (2) assess their impact to human health and ecological risks, and (3) apply the best available scientific data so obtained to environmental policymaking. It focuses on education and professional training of future generations of leaders and expert practitioners in the environmental world. After successfully completing the program, students will become proficient in using measurements science to provide reliable data for developing best environmental policy or laws for the betterment of the world. Limited merit-based partial tuition scholarships are available for qualified students. The qualification for the scholarships is assessed when admission decision is being made.
"You can only prevent hazardous exposures that you can measure and assess their health risk."
We can only ensure a healthy environment in which we live through scientific evidence-based sound policymaking and its sustainable implementation. As such, Georgetown University, the US Environmental Protection Agency (EPA) and US National Institute of Standards and Technology (NIST) join force together to offer this unique interdisciplinary graduate program in EMAP. The symbiotic skill sets that students will have gained upon their graduation will prepare them well for the future. Consequently, they will likely grow into leaders and expert practitioners in diverse fields encompassing EMAP, driven by their higher calling for being conscientious, dedicated and skillful environment stewards for the betterment of the world. Moreover, EMAP graduates will also likely command a well-remunerated professional career.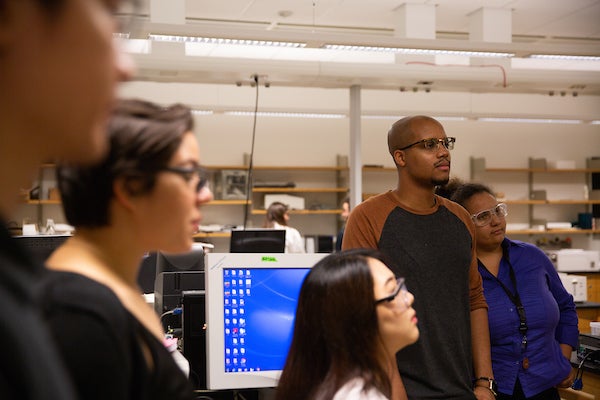 Overall, EMAP graduates will have one of the broadest professional spaces to develop a rewarding career. This is because ensuring that everyone can live in a hazards-free environment faces daunting and pressing contemporary challenges in every country of the world, and will continue to be so for years to come. More importantly and exciting, more challenges are synonymous to more opportunities for rising to the occasion. Therefore, EMAP graduates are destined to make great and lasting societal impacts for the betterment of the world. Moreover, jointly with the Department of Chemistry at Georgetown University, EMAP also offers an EMAP MS–CHEM PhD dual degree program.
Need More Information?