Morgan McCue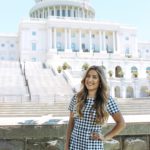 Hello! My name is Morgan McCue and I am an EMAP student graduating in 2021. I was born and raised in San Jose, California and graduated from San Diego State University in 2018 with a B.A. in Communication and Sustainability. Throughout my undergrad, I began working at a non-profit, nonpartisan, grassroots advocacy organization focusing on national policies that address climate change. I've spent the past three years training and empowering citizens to create meaningful relationships with Congress and local elected officials in order to generate the political will necessary to adopt fair, effective, and sustainable climate change solutions. Through this work, I developed a strong passion for climate advocacy and environmental policy and decided to pursue a masters degree to further my understanding of how to produce the most impactful solutions for the climate crisis.
I was originally drawn to the EMAP program because of its interdisciplinary approach to understanding the scientific data behind global climate issues and how that applies to environmental policy making. With a stronger background in policy, I was eager to bridge the gap between the science behind environmental issues and how to best use it to better enhance national legislation.
In order to accurately address the climate crisis, it's important to understand all aspects that play into the environmental world. My advice for future EMAP students (especially those who may not have a strong science background) is to remain open-minded and willing to learn, especially in areas where you're not as comfortable. Take full advantage of the resources and opportunities this program provides – by doing so, it's hard not to succeed.