Morgan McCue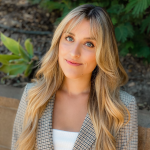 Born and raised in Northern California, my west coast roots inspired me to pursue an education and career in protecting the environment. After graduating from San Diego State University with a B.A. in Communication and Sustainability, I aimed to use my communication skills to better enhance environmental policy. (At this time, science was minimally present in my life). Throughout my studies, I worked in the climate policy space for a grassroots organization where I served as their policy expert for all things related to climate, oceans, and the environment. Through this work, I began to recognize a gap in people's ability to effectively communicate technical science for the purpose of creating sound environmental policy. This inspired me to pursue a Master's in Science to help bridge the gap between scientists and policymakers to solve crucial environmental issues at hand.
I was thrilled to learn more about the EMAP program because it presented an opportunity to combine my communication skills and policy expertise, with a deeper understanding of technical science. I had first-hand knowledge of how to communicate and craft policy, but I was lacking the technical science expertise to ensure that it was created based on the best available science. When I took on the role as a Coastal Ocean Science and Policy Fellow at the National Oceanic and Atmospheric Administration (NOAA), it sparked my interest in ocean and marine policy and allowed me to use my ever-growing science-communication skills to advance scientific efforts and address marine policy issues. After graduation, I completed an internship with the House Science, Space, and Technology Committee for the U.S. House of Representatives where I was able to apply the scientific knowledge I gained from the EMAP program to enhancing national environmental legislation.
Now, I am more than confident to take on a role as both a policymaker and a scientist. I was selected as a 2022 John A. Knauss Legislative Fellow where I am able to focus on ocean, coastal, and marine resources and the national policy decisions that affect them. My placement is as a professional staff member on the House Committee on Natural Resources; Subcommittee on Water, Oceans, and Wildlife in the U.S House of Representatives. I am eager to work hands-on in a Legislative Committee to advance environmental legislation through a scientific lens, and I have the EMAP Program, faculty, and students to thank for this amazing opportunity.
My advice for future EMAP students (especially those who may not have a strong science background) is to remain open-minded and willing to learn, especially in areas where you're not as comfortable. Take full advantage of the resources and opportunities this program provides – by doing so, it's hard not to succeed.
Please feel free to reach out with any questions, mmm508@georgetown.edu (new window), as I would be happy to discuss my experience in the EMAP Program and provide any advice that may be helpful. Hoya Saxa!