Miguel Aristu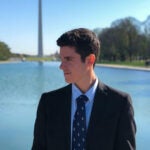 Hello! My name is Miguel Aristu. I was born in the Canary Islands, Spain, and I am a Fulbright Scholar looking forward to attending EMAP during Fall 2020. In 2016, I obtained my BSc in Chemistry from Complutense University of Madrid. Right after that, I started working full time at the Spanish National Research Council while pursuing a MSc in Chemical Industry. During this period, I was able to gain expertise on the determination of drugs and emerging organic contaminants in water samples.
I have always had an interest in the use of analytical chemistry related to environmental, health and social issues. Therefore, what drew my attention the most was EMAP's combination of science and policymaking. I firmly believe that a scientist's work must not only be constricted to technical analysis, in other words, to reporting numbers. A scientist must also be able to understand the context of those results, asses their risks and participate in the subsequent regulation processes. This way, chemical analysis can contribute to making planet Earth a healthier environment for all of us to live in.
After this program, I aspire to work for a private tech company or join a governmental organization. In the long term, I would like to be entrepreneur and come up with my own project which I hope will have a positive impact on the environment.
The following are the products of Miguel's 2021 summer internship at NOAA