Madeleine Kawanesicayuga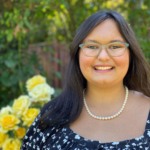 Hello! My name is Madeleine Kawanesicayuga, and I am apart of the EMAP class of I was born in Oregon and have lived there most of my life. Having been raised in a state known for its diverse range of biomes and emphasis on environmental protection in its K-12 education, it's no wonder that, from a young age, I've been interested in the natural world. In high school, I discovered my passion towards tackling environmental issues. During my time at Soka University of America, where I received my B.A. in Liberal Arts (with concentration in Environmental Studies), I became invested in clean energy technologies to combat climate change and the movement to transform the United States' energy grid into a clean one, specifically through clean energy policies crafted at various levels of government.
My interest in promoting clean technologies through policy is what drew me to Georgetown's Environmental Metrology and Policy Program, where internships and direct connections to government agencies that play a significant role in the crafting and execution of clean energy policies are readily accessible to EMAP students.
Through EMAP, I look forward to expanding my knowledge of environmental policy and acquiring fundamental environmental science skills to better understand the political and scientific processes that go into establishing clean energy policy (and analyzing its causes and effects), which is integral to mitigating climate change, promoting energy security, and reducing air and water pollution. I can't wait to work alongside my peers and learn from Georgetown's faculty to make real change in the realm of clean energy policy through the EMAP program and everything it has to offer!