Leah Wise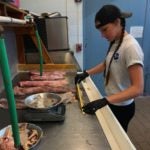 Hello! My name is Leah Wise. I came to the EMAP program with an undergraduate background in biology with a concentration on marine biology. Upon graduating from Cornell University with a B.S. in Biology and Society, I began working for the National Oceanographic Atmospheric Administration (NOAA) as a Fishery Observer. My position focused on collecting fishery data, biological samples, and endangered species information of catch and bycatch from commercial fisheries in the Southeast Atlantic and the Gulf of Mexico. After spending most of my time as an Observer on the water, I witnessed the effects of anthropogenic activities on ecosystems and organisms in the ocean. Having learned about the effects of human activities on the environment in an academic setting and then experiencing these negative effects first-hand, I decided to pursue my Masters in a field that would allow me to combat these sources of environmental harm at their source.
I chose Georgetown's EMAP program because of its unique ability to garner a true understanding of the chemistry behind policies aimed at protecting ecosystems and bettering our human and natural environmental interactions while simultaneously teaching how these policy processes work.
Currently, I work as an Environmental Consultant with Ramboll. In this position, I utilize my understanding of environmental policy application and process from EMAP to perform environmental site assessments and compliance reporting and recommendations for private equity clients. I aim to interface with clients in order to work toward more responsible and sustainable operations and practices.
My advice for future EMAP students is not to underestimate yourself. In order to be successful and meet your goals, you must be willing to take risks and be open to new opportunities. Be confident in your abilities and be willing to build off of them.