Laniya Thompson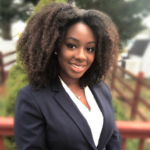 Hi! My name is Laniya and I'm from Delaware.
I graduated from University of Delaware in 2018 with a Bachelor of Science degree in Energy and Environmental Economics and Public Policy. During undergrad, I interned with the Department of Energy's National Nuclear Security Administration as an economics data analyst and sat as president and reinstator of my school's Minorities in Agriculture, Natural Resources, and Related Sciences (MANRRS) chapter. I was also executive secretary of a local non-profit, Delaware Peace Club.
Now, I currently live in Washington, DC and work as a full-time Research Fellow with the Department of Energy.
I value my interdisciplinary experience that allowed me a wide range of learning opportunities. I wanted a graduate program that put me in the best position to build on the pace of my undergrad studies. EMAP was the best program choice that fit my interests in both the science of environmental issues and the policy solutions to solve them. I'm excited to continue to deepen my understanding of both fields.