Krista Jajeh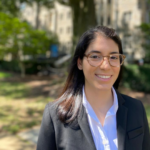 I am Krista Jajeh, and I will be graduating from the EMAP program in 2022. I come to the program with a Bachelor of Science in Renewable Natural Resources from Texas A&M University, along with a passion for sustainable agriculture, resource conservation and environmental management.
From my undergraduate experience, I worked with a variety of multi-disciplined audiences within the environmental sector and engaged in a series of land and resource management projects across the state of Texas. From bettering historical land sites, to implementing best management practices to river and drainage sites to ensure quality drinking water and stable environmental thresholds, I grew to understand that policy greatly impacted the research I was doing. I continued with an internship for an agricultural non-profit organization in D.C., where I had the opportunity to use my knowledge in a different context and see what minds were at work on the policy side. From there, I sought out how I could combine my interest in environmental science with policy to help create long-term change.
The uniqueness of the EMAP program, coupled with the hub that is D.C. and its abundance of opportunity, provides an advantageous experience to grow and learn in an environment that I am excited to be a part of.