Henry Frishman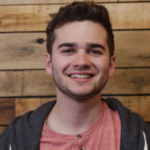 Hello and welcome to my bio!
My name is Henry Frishman, and I'm from right outside of Providence, Rhode Island. I attended WPI as an undergrad, where I spent a lot of time singing, acting, and getting involved with local volunteering clubs and school government. After graduating in 2020 with a degree in computer science and minors in both environmental studies and music, I worked as a support engineer and a full stack software engineer.
I'm incredibly excited to attend the EMAP program! In college I originally intended to pursue a career in programming; but it wasn't until I actually sat down at my 9-5 internship my senior year of college that I realized I couldn't go into work every day without feeling like I was making a positive impact on the world. By this time it was far too late to change my major, so I picked up my environmental and sustainability studies minor. My minor led me to take what ended up being my favorite classes throughout my entire time as an undergrad, and subsequently solidified my decision to pursue a career in sustainability and protection.
During my time in the EMAP program I'm looking to explore air toxicology, carbon emissions, and international policy. Coming into the program with a minimal environmental background, I have a lot to learn! I couldn't be more thrilled to transition into protecting the environment and using my passion to drive my career forward.
Please feel free to reach out to me if you have any questions about my experience in the program or anything else! My email is hf280@georgetown.edu (new window)