Hannah Hidle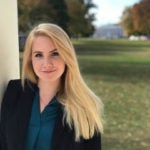 (BA in Foreign Affairs 2018) I grew up in Northern Virginia and spectacularly failed my high school chemistry classes. After receiving a bachelor's degree in Foreign Affairs and Global Sustainability from the University of Virginia, I decided I wanted to go back to school for environmental policy. With hopes of working at the Environmental Protection Agency (EPA), I knew I would need a better scientific foundation in order to influence conscionable policy.
I was very excited to learn about the EMAP program, because it gave me the opportunity to advance my scientific understanding of global climate and environmental issues without having a strong prior background in chemistry. From this degree, I hoped to utilize my new foundation in environmental chemistry to bridge the gap between climate policy and the scientific community. To my extreme surprise, I graduated in May of 2021 not only knowledgeable in the realm of environmental legislation, but a veritable scientist. As it turns out, dreams really do come true: I am a research Analyst and Technical Writer for the Project Enhancement Corporation, contracted under the Department Of Energy. Within the DOE, I support the Safety Culture Improvement Panel (SCIP) for the Associate Undersecretary for Environmental Health, Safety, and Security, as well as PFAS research under the Office of Sustainable Environmental Stewardship. 
I encourage potential students who have an academic background similar to mine not to be daunted by the scientific aspect of this program — I found that the diversity of student backgrounds in my cohort only strengthened my education and enthusiasm to learn. I never thought of myself as a scientist, but EMAP opened a whole new world of career possibilities for me.