Emilia Echeveste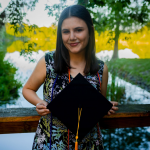 Hi, my name is Emilia Echeveste and I was born in Mexico, and raised in Miami, FL. From a young age, I always pictured myself as a scientist, exploring & saving the oceans. The interdisciplinary nature of my program at the University of Florida, and my experiences with various organizations like Alpha Phi Omega, Gatorship, and Dream Defenders dramatically shifted the career I envisioned for myself.
Coupled with my education, these organizations pushed me to gain a deeper understanding of how interconnected issues like the environmental crisis, the climate emergency, and social justice were. I was driven to understand how social context contributes greatly to health disparities. This fostered a desire to elect a career path that would allow me to use my position and privilege to respond to social inequities with empathy. After graduating in 2019, I started working at an environmental consulting company. My work and opportunities lead me to find the EMAP program at Georgetown.
The acceptance of students from all academic backgrounds in the EMAP program allows for effective and holistic solutions to mitigating health disparities between social groups. My aspirations in life are rooted in helping others, and the EMAP program best fits this ambition by offering an evenly split curriculum geared towards the creation of evidence-based policy and decision making. With this program, I am enthusiastic to take the next step towards eradicating hazardous environments for all. If you want to chat, my email is eme48@georgetown.edu. I look forward to meeting you!