EMAP Weekly Seminar Speakers: Spring 2023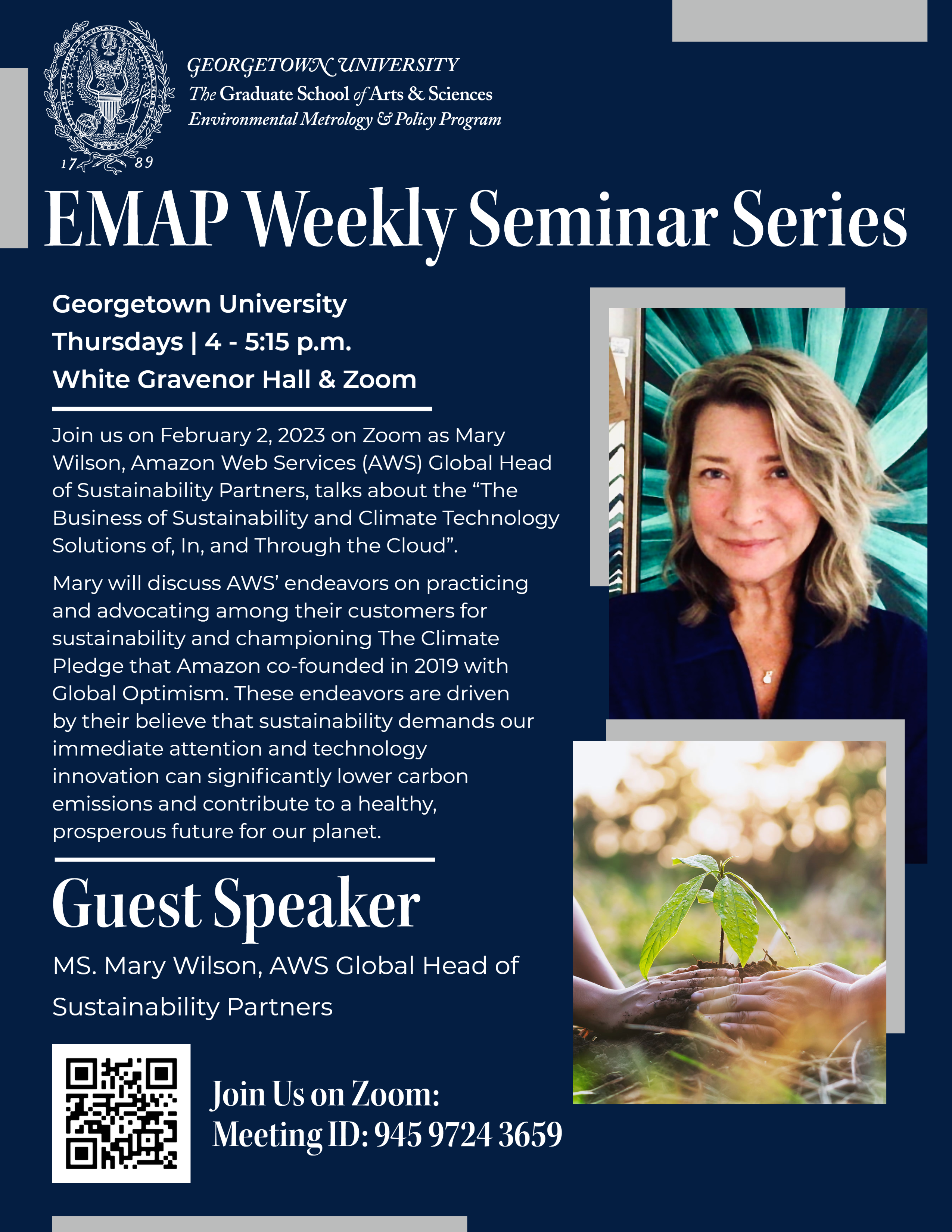 Seminar Date: 02.02.2023
Bio: Mary leads the strategy that enables innovation being developed by and with AWS partners to support customer sustainability goals. These are the partner services and solutions delivered on AWS that address events of climate change and the objectives of the United Nation's Sustainable Development Goals. Together with partners, Mary tackles sustainability objectives which range from ESG reporting to decarbonization to ethical commerce for organizations, industries, and governments. Mary brings 15+ years leading in decarbonization strategies for the utilities sector, is a founding member of think tank organization Chief, and a member of The Climate Reality project. Mary also volunteers at the West Palm Beach Office of Sustainability.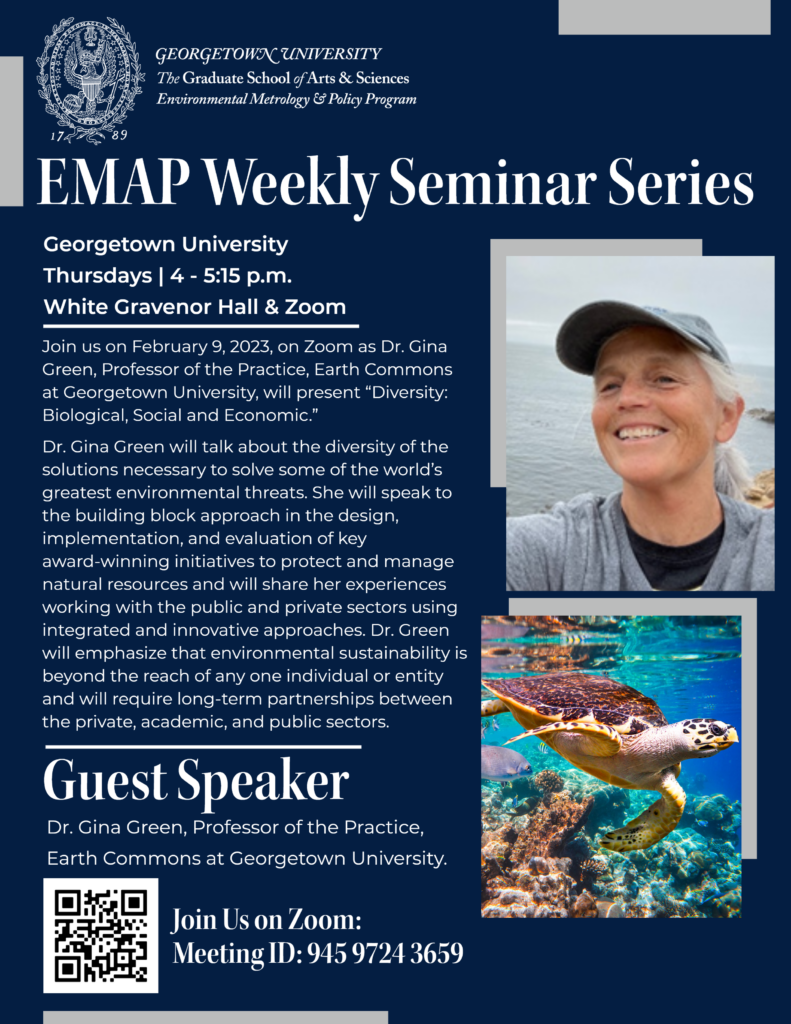 Seminar Date: 02.09.2023
Bio: Dr. Gina Green is a specialist in biodiversity (terrestrial and marine), climate change, forestry, and agriculture. She has over 35 years of experience designing, implementing, and evaluating initiatives to protect and manage marine and terrestrial resources in Latin and North America, Caribbean, Asia, and the Pacific. Dr. Green worked for the Environment and Natural Resource Sector for Tetra Tech-ARD as a Senior Technical Scientific Associate and was responsible for the execution of highly lauded marine biodiversity, fisheries, and marine debris prevention programs. For over 12 years she grew and managed Tetra Tech's portfolio of USG international marine coastal initiatives. Dr. Green has lived and worked throughout the Caribbean, Latin America, Africa, and Southeast Asia, implementing Forestry, Climate Change, Marine Debris Recovery and Sustainable Fisheries programs. She is fluent in Spanish.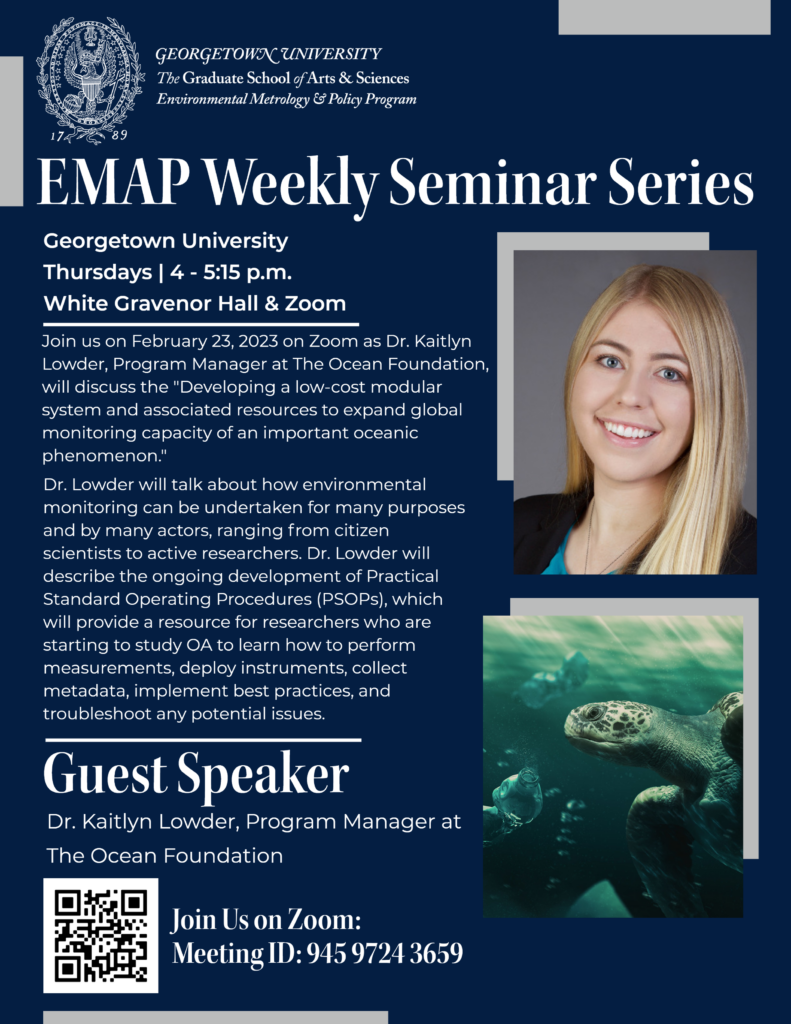 Seminar Date: 02.23.2023
Bio: Dr. Kaitlyn Lowder supports EquiSea at The Ocean Foundation and works to increase ocean science research capacity around the globe with a particular focus on ocean acidification monitoring. As a marine biologist, she has researched the effects of changing ocean conditions
on marine organisms and ecosystems and now leverages this experience to provide technical guidance and support. In her capacity as a Program Manager, she leads international training workshops for scientists, delivers low-cost sets of equipment to initialize monitoring programs,
and develops resource materials to enable high-quality methodology that is accessible to lesser- resourced research groups.

Prior to joining The Ocean Foundation, Kaitlyn completed the National Oceanic and Atmospheric Administration's Knauss marine policy fellowship program and supported U.S. foreign policy objectives in science and technology, including preparations for the UN Decade of Ocean Science for Sustainable Development. Kaitlyn received her BS in Biology and BA in English from Western Washington University and an MS in Biological Oceanography and a Ph.D. in Marine Biology with a Specialization in interdisciplinary Environmental Research from the Scripps Institution of Oceanography, UC San Diego. She is a member of the STAY COOL for Grandkids Advisory Council to support youth ocean-climate science education in her city of San Diego, California.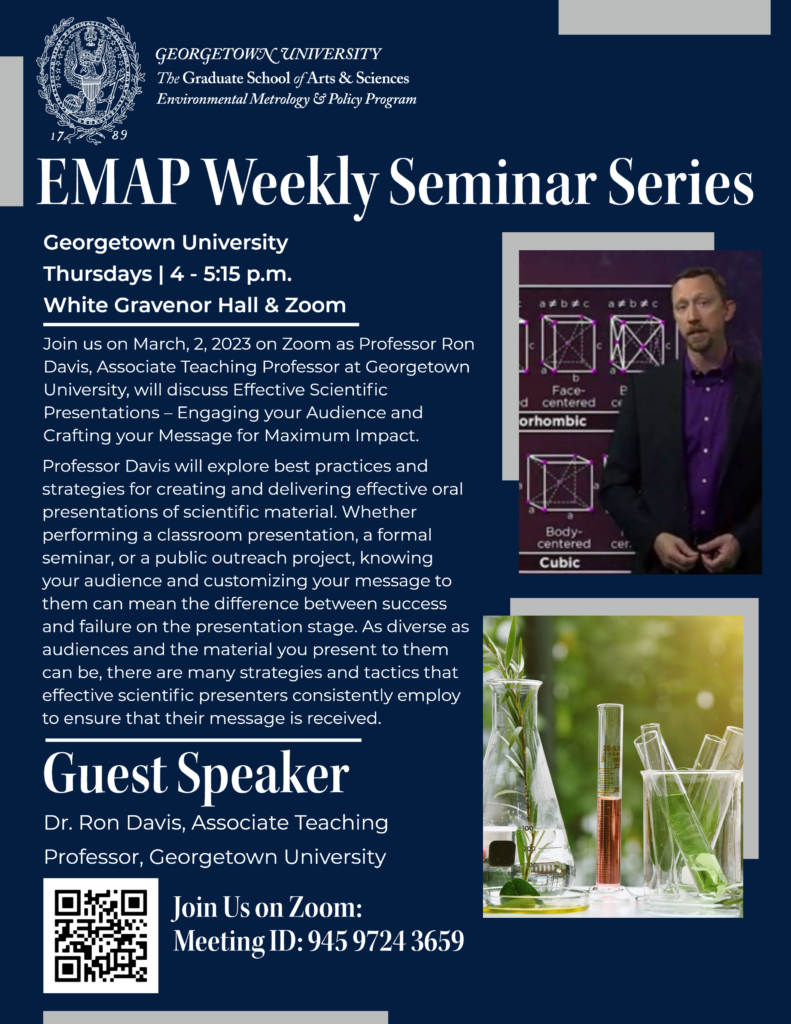 Seminar Date: 03.02.2023
Bio: Professor Ron Davis has been on the faculty of the Georgetown University Chemistry Department since
2008, where he routinely lectures to more than 200 undergraduate students each year. During that
time, he has also appeared in television productions aired by The Discovery Channel and The History
Channel. He has also maintains a successful YouTube channel with over 60k subscribers and has
lectured in several video chemistry courses with international distribution produced in association with
The Teaching Company, LLC.

Seminar Date: 03.16.2023
Bio: