Elizabeth Linske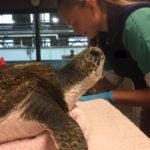 I came to the EMAP program with a background in marine science, focusing on rehabilitation, field work, and research involving marine mammals and sea turtles. After six years of working in Boston, Massachusetts as a marine biologist, I decided to go to graduate school to contribute my knowledge and experience to ocean and environmental conservation. My decision to return to school was spurred from the human activities I witnessed affecting the marine ecosystem, specifically plastic pollution, and my desire to make a difference on a larger, policy driven scale.
The EMAP program helped me to accomplish my goals. This program far exceeded my expectations as to what a graduate program is and could be. The program enables you to mould your research to what your interests are, while allowing you the opportunity to explore new topics. The professors, my fellow students, and my advisors pushed me to think critically about how science intersects with policy as well what needs to be done to make effective change. After graduating, I am confident and prepared in my new position focused on foreign environmental policy at the U.S. Department of State and feel ready to help change the world for the better.
For all current and future EMAPers, take advantage of everything Georgetown and DC have to offer. The number of opportunities offered to you as a graduate student is endless. Take this time to figure out what you really want to accomplish and where you see yourself post-graduation. Remember to ask for help too. The well-connected professors in the EMAP program will always be willing to help you to land an internship or a job – all you have to do is ask.
Good luck in the EMAP program! Please reach out should you have any questions about the program or post-graduation work.
Hoya Saxa!