Elizabeth Linske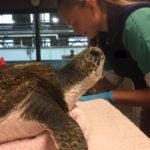 Hello! My name is Elizabeth Linske and my passion is saving the oceans. I came to the EMAP program with a background in the marine conservation, focusing on the rehabilitation, field work, and research involving marine mammals and sea turtles. After six years of working in Boston, Massachusetts as a marine biologist, I decided to go to graduate school to contribute my knowledge and experience to help in ocean conservation. My decision to return to school was spurred from the tremendous amount of human impact I saw on marine life and the ecosystem. From population shifts, to loss of habitats, and even plastic ingestion, I personally saw drastic changes in my short six years in the field. Outside of academics, I love to be outside with a book, explore a new city, play the ukulele, and go to the beach as often as I can.
I specifically chose the EMAP program because I think it is essential to learn about all the different aspects of environmental health in order to save or concentrate on one area. Also, the exposure to policy in D.C. is unlike any other place in the world. I have had countless new experiences since moving to Georgetown and gained a tremendous amount of knowledge in the short time of being a part of this program.
My advice for future EMAPers, is to be open to new experiences. This program and this school are what you make of it, so take advantage of every opportunity presented to you. All students who graduate from this program have the potential to make a significant impact on science and policymaking, leading to positive change in environmental conservation.