Elizabeth Danon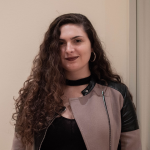 After undergrad, I worked as a fishery observer for the National Marine Fisheries Service, having gone through an intensive training program in Cape Cod, Ma. I then worked as a Marine Mammal Observer and Trawl Relocation Supervisor (for sea turtles) for various dredging companies, before going into IT as a tech writer.
Working at sea was incredibly hard, mentally and physically, but I've had experiences that I wouldn't trade for the world, even the sad ones. Like when I tried resuscitating an adult Loggerhead that didn't make it. Although, I did touch a live juvenile White Shark once, which has pretty much made my life.
Furthermore, I'm an author and an advocate in other areas outside of my career, but I would also like to become an environmental activist in the future. But I'm not too set on a clear arena yet because life outside of school for the past six years has taught me to be flexible. I will, however, be channeling Rachel Carson vibes throughout this program.