Brian Beukema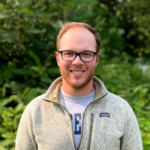 My name is Brian Beukema. I am from Kalamazoo, Michigan and I will be graduating from Georgetown's EMAP program in 2023. I achieved my Bachelor of Science in Geology with a minor in Group Science at Western Michigan University. My key interests were in structural geology, geomorphology, and the post-glacial system that Michigan is today. After graduating, I found employment at the Michigan Geological Survey where I have gained experience aiding in hydrogeologic investigations pertaining to issues surrounding PFAS throughout the state.
My experience at the Michigan Geological Survey has brought me to Georgetown University where there is a unique, diverse community dedicated to combining science and policy. Through the Environmental Metrology and Policy program, I hope to continue researching water contaminants and their pathways, collaborating with world-class students and faculty, in an unmatched setting to protect this vital resource.
I know that my experiences at Georgetown will prove to be invaluable, and I am excited for what opportunities lie ahead.
If you have any questions, please reach out to me at bjb137@georgetown.edu (new window).