Anthony Rufka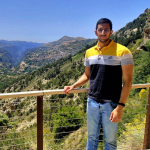 Hello! My name is Anthony Rufka, and I'm from a small town called Broumana in a small country called Lebanon, wherein I grew up learning to love and value the nature and environment of my country. I have graduated from the Lebanese American University with a BS in Biology in 2020.
After initially following a pre-med program, I have discovered my love for the environmental field while volunteering in Environmental Toxicology research work in university, studying the cytotoxic effects of gasoline vapors and diesel generator emissions. This period especially opened my eyes to the need for a better understanding of the damages that face the environment as well as the need for sterner and more effective environmental laws. Consequently, I knew the inter-disciplinary EMAP program was perfect for me as soon as I found out about it.
I look forward to being part of the class of 2023 and gaining the necessary skillset to become a competent agent of environmental preservation. I also look forward to grow through my journey in Georgetown along with my diverse group of classmates. Finally, please don't hesitate to contact me at ar1724@georgetown.edu if you have any questions!