Andrew Reed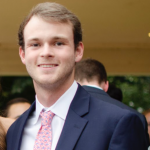 My name is Andrew Reed and I am from Richmond, Virginia. I graduated from Lafayette College in the spring of 2019 with a B.S. in Chemical Engineering and a minor in Spanish.
Throughout undergrad, I was drawn to courses in alternative energy and green engineering processes, but was unsure how to translate my interests into a career in the environmental sector. The EMAP program's interdisciplinary approach of combining science and policy was appealing to me because I can become a more well-rounded scientist. To be an effective environmental scientist and a catalyst for change, I must have a secure foundation in both metrology and policy, and the EMAP program will provide all the tools I need to be successful.
Through the EMAP program, I hope to shift my career towards my passion of combating oceanic pollution and protecting coastal ecosystems. The EMAP program prepares all students for impactful careers because of its specialized courses, diverse student backgrounds, and Georgetown's unparalleled access to the policy-making fabric in Washington D.C.
I am thrilled to be a member of the EMAP class of 2023! If you have any questions, please feel free to reach out to me at dar150@georgetown.edu