Amelia Green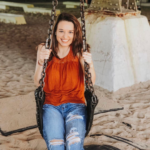 Hi there! I'm Amelia Green. I recently graduated with my bachelor's degree from Mount Holyoke College where I double majored in geography and geopolitics & global security. I, like many in my cohort, grew up in Florida where much of my interest in climate policy was influenced by my environment. I'm so thankful that I was able to attend an undergraduate college that allowed me to create my own interdisciplinary course of study that incorporated geography and national security with technological developments and resource management.
My social science background coupled with my passion for all things science led me to Georgetown's EMAP program where I was able to build a skillset in applying the hard sciences while expanding on my background in policy. I really liked that the curriculum incorporated climate science into tangible terms while also including a strong foundation in environmental chemistry. I was looking for a challenging masters program that could match the connection and application from my bachelors to effectively integrate my climate policy background with air and space science in the future, and I've found that here at Georgetown.
If you have any questions about the program, I would love to chat with you. My email is aag127@georgetown.edu.