Zhendong Ji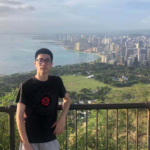 My name is Zhendong Ji and I am from Hangzhou, China. I had a long experience studying in the U.S. as an international student. Before join in the EMAP program, I had a Bachelor's degree from University of Delaware, majoring in Environmental Science and concentration in Marine Science.
I joined the program because the metrology and policy study in the program interested me a lot. It is a new study area to me and they are important to my future career. This program provides great internship opportunities and resources from professors. Overall, a great program, great people, and a great future.
It is my honor to a part of the EMAP program. If you are interested in the program, please feel free to contact me at zj96@georgetown.edu.